Whiter teeth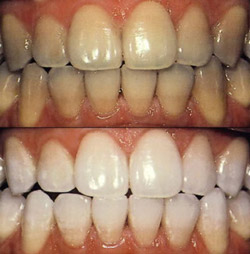 Tooth whitening is the most commonly prescribed cosmetic dental procedure in the world. When it comes to teeth, whiter and brighter is beautiful!
There are many reasons for discoloured teeth such as genetics, trauma, decay, diet, smoking and medication. Because of these factors the initial assessment of your teeth is very important before beginning any tooth whitening.
It is necessary that you have a dental checkup before beginning any tooth whitening. This is not only for reasons of safety and effectiveness; aesthetically you should also have professional guidance on how to improve your smile.
Our Approach
Our preference for tooth whitening is to use a gentle gradual system of home whitening. This approach is recommended by current research and is also very cost effective.
We make special soft clear plastic trays to fit comfortably and precisely over your teeth. These are then filled with a whitening gel and kept in your mouth for periods from one hour to overnight.
"I was amazed that I felt no discomfort while Paul was fixing my teeth"
Patrick Grogan, Moate, Ballyhaunis
Read More